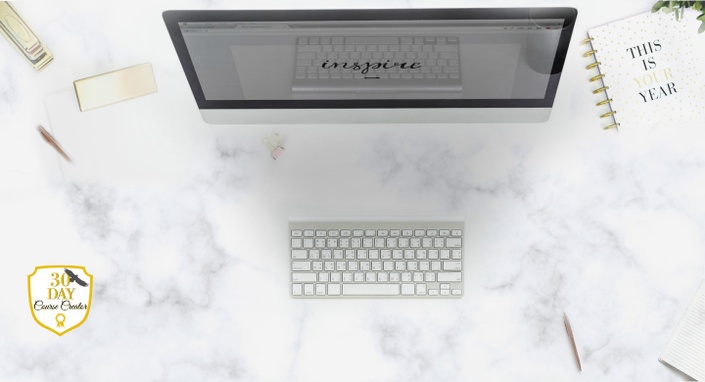 The 30 Day Course Creator!
Everything You Need To Breakthrough and Finally Enjoy Massive INCOME, IMPACT, CREDIBILITY AND FREEDOM Now!
DID YOU MISS THE WEBINAR MASTERCLASS?
WATCH THE NEXT MASTERCLASS
Learn the 3 Secrets to leveraging your skills online for greater income, impact and freedom!
What is the 30 Day Course Creator?

An incredibly detailed (no steps left out) simple step by step system, designed by holistic entrepreneur and educator Dr Shaunna Menard, to walk you through the creation, completion, launching and leveraging of your branded course!
AND you're not alone. Dr Shaunna will be right there with you every step of the way in
The Health Professional Academy group that accompanies this course.

How can creating a High Value Course create a life changing breakthrough for you?
Packaging your expertise dramatically increases your CREDIBILITY.
Your course creates an additional, leveraged INCOME stream that can quickly surpass your day job.
Your course instantly increases your "know, like and trust factor" among your students allowing you to hand pick your IDEAL CLIENTS.
Your course allows you to reach many more people with your message and significantly increase your IMPACT as a Master Coach!
Once created your course can work for you 24/7 making a difference, creating income while giving you TIME FREEDOM.

The 30 Day Course Creator is actually much more than a course!
The 30 Day Course Creator
is a million dollar business plan with everything you require to succeed!

Mindset, Practical Skills, Technology Know How, Support, Coaching and More!

You have skills and heart and a desire to teach and heal.
We have a global health crisis and people are literally dying for your help!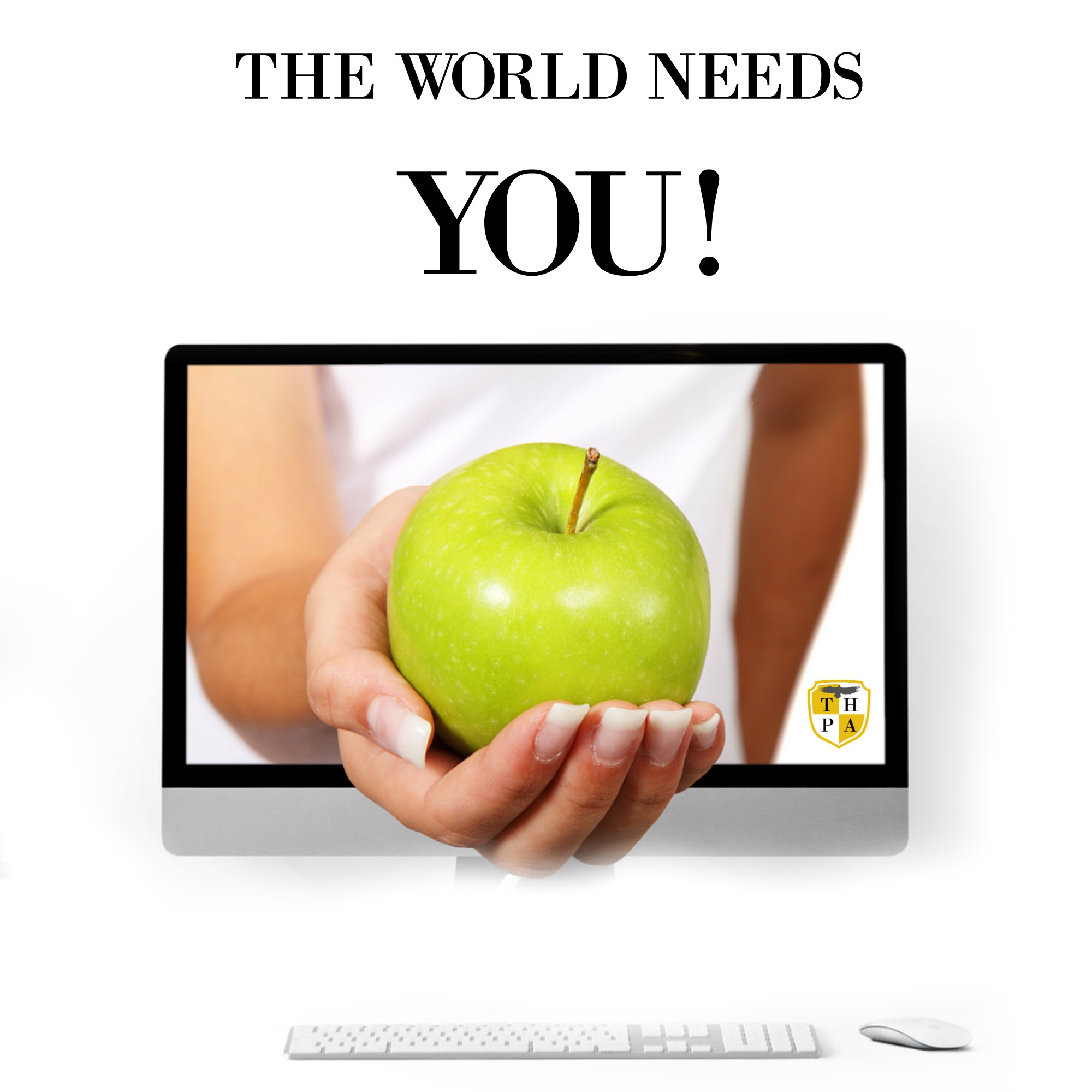 But being a health professional is NOT an easy task and too often you, as an amazing heart-centered leader are throwing in the towel because you are exhausted or not receiving the compensation to allow you to live a life of freedom too.
That is why Dr Shaunna created The 30 Day Course Creator!

So what is the course like?
There are 12 Modules, each consisting of multiple video lectures with slides or screen sharing to literally walk you step by step, click by click through every essential part of the process to success.

There is also a Private Group that accompanies this course where you can receive coaching, support, ask questions and even use it as an accountability partner.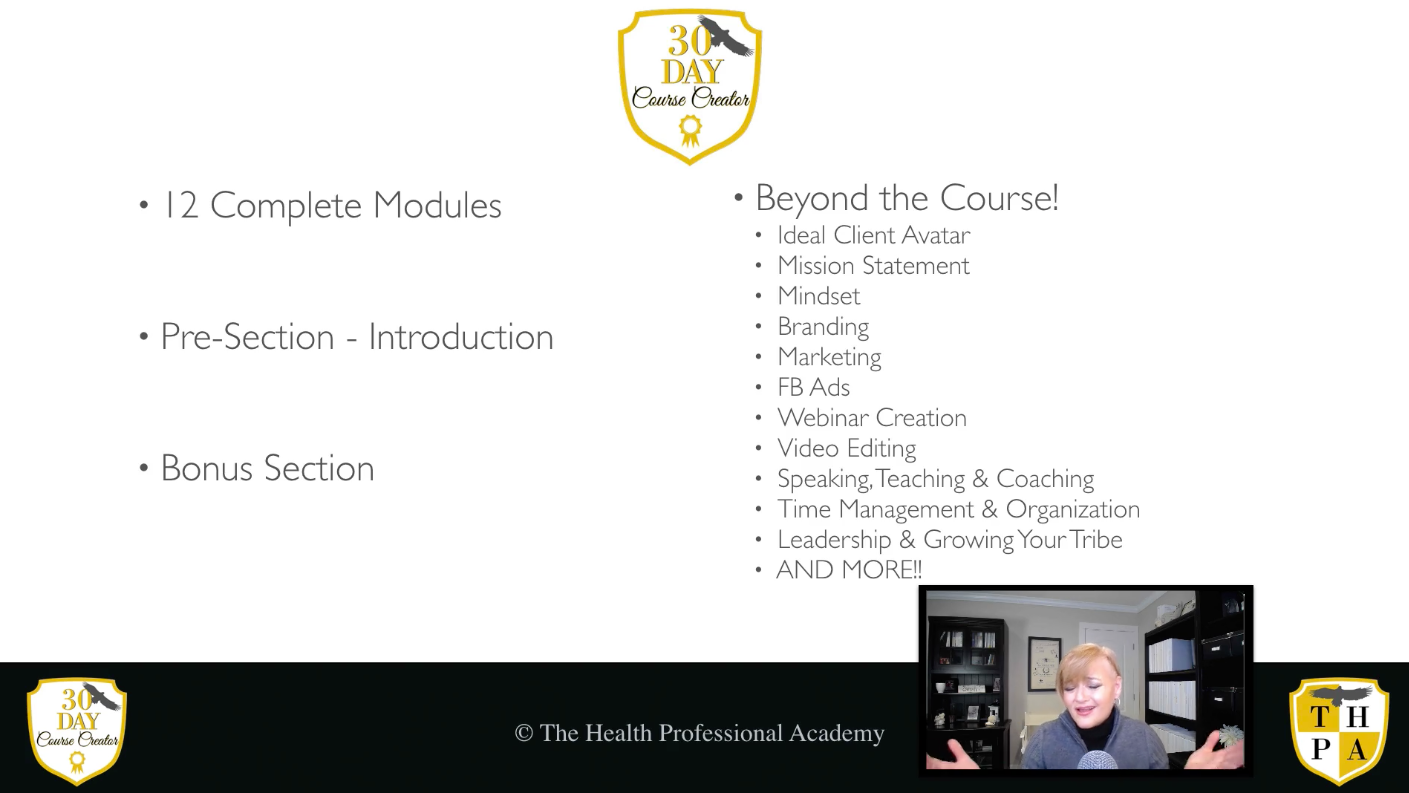 What is Included in
The 30 Day Course Creator?
Upon completion, you will have created and be crystal clear on:
Your Ideal Client Avatar

Your Attractive Archetype

Your Million Dollar Branding

Your High Value Transformational Course

Marketing Your High Value Course


How to Set Up Your Custom Email for Your Course

How to Set Up Your Social Media for Your Course

How to Create, Set Up and Automate a Winning Webinar

How to Create, Set Up and Optimize Winning Facebook Ads

And ALL of the Tech Required to Succeed Explained in Easy to Follow Visual Steps

How to Grow Your Following and Create a Movement

The Mindset Required to Lead and Succeed
*Everything that took me years of trial and error and over $100k to learn will be hand delivered to you in the simplest, most easy to digest and supported way!
Transformation High Value 30 Day Course Creator Course (greatly undervalued at $5997)
You will also receive:
Full Access to The Health Professional Academy Private Group

(value $1997)


Dr Shaunna's Webinar Slide Templates

(value $197)


Dr Shaunna's Master Slide Templates

(value $97)


Marketing Email Sequence Scripts

(value $697)


Module Creation Flow Chart

(value $247)


30 Day CC Flight Plan

(value $288)

BONUS:

Time Management and Organization Course

(value $497)


Expert Video and Speaking Course

(value $497)


Dr Shaunna's Personal Time and Coaching in Group

- priceless


Collaboration,Networking and Referrals within a group of like-minded individuals

- priceless
___________________________________________________________________
Total Value: $10,514

GET STARTED TODAY
IMMEDIATE LIFETIME ACCESS
for only

$1,497

and be a proud member of
The Health Professional Academy
and DOUBLE YOUR INVESTMENT with just 2 - 4 students!
This course is closed for enrollment.
Here's the unfortunate truth. Not all courses are successful.
There are many important steps in course creation that can make the difference between frustration, struggle and lack of sales versus
EASE, FLOW and a CLEAR PATH with ALL of the steps in the CORRECT ORDER.
To unlock the winning combination, you need all of the numbers in the right order and that is what you'll receive in
The Life-Changing 30 Day Course Creator for Health Coaches!




Health coaches do not have the time or money to waste
on getting something 80% done and never launched or getting tripped up over technology.
You want all of the puzzle pieces (steps) in one box (course) with a picture of what it is supposed to look like (The Master Plan)
and someone to assist you (me) every step of the way in putting your course together.
This course is truly life changing!
I am so excited for your success and the ripple effect of health that we will all
create together!
Watch this FREE SAMPLE of a short step on your
Mission Statement.
(More detailed information regarding the curriculum below.)


Course Curriculum
WELCOME and IMPORTANT INFORMATION
Available in days
days after you enroll
MODULE 1: LAY A STRONG FOUNDATION
Available in days
days after you enroll
MODULE 2: BUILD COURSE TEMPLATE
Available in days
days after you enroll
Your Instructor

Dr. Shaunna Menard has been a Medical Doctor for over 25 years. She is also a certified health coach, former Chair of Public Health and Assistant Professor of Medicine. She has shared the stage with Deepak Chopra, taught at the Institute for Integrative Nutrition and been featured on Breakfast Television. Following her true soul's calling led her to break free from burned out doctor to blissed out health coach. Other health coaches soon sought her out to help them do the same. As she started guiding healers to create their own successful, soul-satisfying health coaching practices and they were breaking free also – she wrote her international best selling book "Free to Heal: 9 Steps to a Successful, Soul-Satisfying Health Coaching Practice" and The Awakened Healers and The Health Professional Academy were born. She now mentors health coaches to create soul-satisfying six figure heath coaching practices through her Awakening Process. She lives with her family of six in beautiful Kelowna, BC, Canada.


Frequently Asked Questions
When does the course start and finish?
The course starts now. You have immediate access to all of the material. It is a completely self-paced online course - you decide when you start and when you finish. A guideline will be given in the course if you wish to complete it in 30 days. However, you have lifetime access to all of the content and it will be a valuable reference for many future projects for you.
How long do I have access to the course?
After enrolling, you have unlimited lifetime access to this course for as long as you like - across any and all devices you own. Once you're in, you're in! You will also have access to updates or enhancements as we continue to revise and improve in the future. If you are on the payment plan however and miss any payments for any reason, your access will be restricted until payments are caught up.
What if I am not a Health Coach? Is this still valuable?
The short answer is YES because I believe everyone should have an online course because everyone has valuable information to share. This course is especially great for teachers, trainers, coaches in various niches. I work closely with Health Coaches and Health Professionals so some of the examples I provide will have their languaging in it but all of the tech and procedures and mindset would apply to many different subjects. However, this content is specifically designed for people who are wanting to serve others by conveying "high value" life changing information.
What is the return policy?
If you have made the initial decision to invest in you and your business, I will be investing my time in you to succeed so the return policy is intentionally very strict. We have a strict 30 day refund period for those who make the one-time payment. Refunds are NOT given for the payment plan option, but you can request unenrollment within 15 days of registration to avoid further charges according to the following guidelines.: To qualify for a refund you must complete all of the material and modules in this course EXACTLY as I have outlined and completed the entire course and have made use of the Facebook Group regularly (weekly or more) in a positive and constructive manner to gain support and if then you do not feel you have received value, then upon receipt of all of your completed materials within 30 days of your initial investment (or 15 days on payment plan) with a written explanation of why this was not of value, following a review of your materials, a refund will be issued. We do not offer refunds for any other reason. If you selected a payment plan option for your purchase, we are not able to stop payments without a proper refund request being submitted. In the event that you discover your purchase does not work for you for the above reasons then submit material within 15 days (payment plan) or 30 days (paid in full) of enrolment to
[email protected]
and request a refund by the 15th or 30th day at 23:59 EST. The reason for this strict policy is as follows. Given the nature of this course where I share all of my proprietary valuable secrets that you have lifetime access to, once you learn them, you know them and an open refund policy just cannot be offered. It would be like asking for tuition back after completing medical school because you now know the material. In essence, I am making it far easier for you to succeed than fail. If you are wanting to return this course, I recommend you not investing in it in the first place. I take your success seriously and personally but you have to want to succeed.
Is this course for beginners or advanced?
Both. This course is perfect for beginners and advanced. For brand new health coaches and those seasoned coaches that want to breakthrough to the next level, I purposely outline everything in a very basic step by step approach but almost certainly we will be covering brand new material even for the most seasoned health professional. Plus, we will have a ton of fun along the way! You will obviously require access to a computer but no fancy tech skills are required. (You will learn them. 😉 )
This course is closed for enrollment.